Customer-Centric Marketing Insight for 2016 Presented by EmailWire, the Global NewsWire with Press Release Distribution Services
16
Dec
2015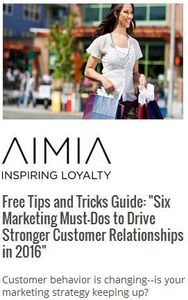 In 2016, businesses will focus on knowing the customers based on their data sets – establishing which channel to take and deciding the right message to reach them.
(EMAILWIRE.COM, December 15, 2015) Houston, TX – The adage that the customer is always right is becoming truer than ever as businesses focus their marketing efforts on a customer's journey through the buying process.

This guide from Aimia, "Six Marketing Must-Dos to Drive Stronger Customer Relationships in 2016" establishes that customers' behaviors are changing. Hence loyalty will be more important in the coming year than before. Therefore businesses must put their efforts to understand their customers by using tools like CRMs to ascertain customer behavior, knowing where they are and reaching them with the right message. To do this, marketers must know related data for each customer.

IQPC, on its complementary executive guide, titled, "Big Data and Analytics Insurance" writes that business can understand their clients better by

- gaining detailed customer insight to increase competitiveness and become more customer-centric

- transforming your people and processes to become more data-driven

- reducing risk and the costs associated with renewals, claims processes and fraud prevention through more thorough analysis

- getting to grips with an increasing mass of data from multiple, complex sources

Understanding customer behavior and meeting their needs is indispensable in today's marketplace. Therefore businesses must discern their customers' needs through data analysis and communicate with them through the channels; for example, through social media, email and press release distribution services.


About EmailWire.Com
EmailWire.Com (http://www.emailwire.com) is a global newswire with unlimited press release distribution services for small and medium size companies, public and private corporations and organizations. Marketers, public and investor relations firms also use EmailWire to publish and distribute news releases for their respective clients.

Unlimited Press Release Distribution Services
Post unlimited press releases on Emailwire.com and GroupWeb Media netowk. The news releases are search engine optimized (SEO) and indexed by all major search engines with billions of your potential customers, journalists, professionals, institutions or consumers. Your press releases are distributed and published via XML or RSS feeds to portals, blogs, aggregating and curating news sites with over 10,000,000 users. For more information, go to http://www.emailwire.com/publications/unlimited_press_release_distribution.php.

Contact Information:
GroupWeb Media Consultant
Tel: 281-645-4086
Email: http://www.emailwire.com/contact.php


This is a press release. Press release distribution and press release services by EmailWire.Com: http://www.emailwire.com/us-press-release-distribution.php.