My Picqasso Puts a Twist on Tapas, Tuesdays, through Art Painting at The Woodlands
03
Sep
2015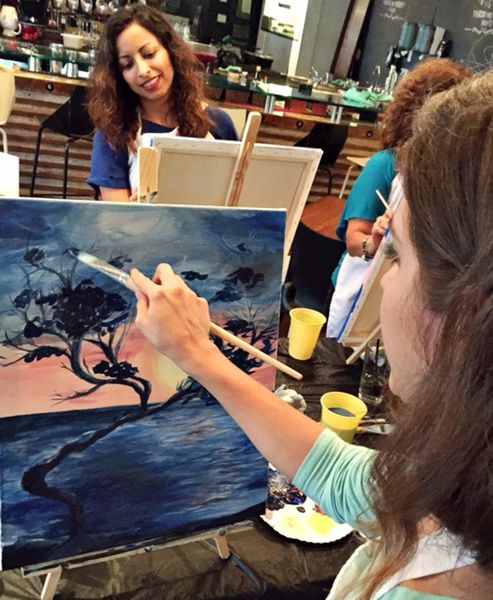 (EMAILWIRE.COM, September 03, 2015) Houston, TX -- In the Woodlands, specifically on Market Street, there are plenty of ways to celebrate life in style. Market Street offers top quality restaurants and world class chefs to include, the 1252 Tapas Bar. 1252 has an intimate patio and is a purveyor of modern and classic Spanish tapas. But, what surely catches your attention is what's going on inside during lunch on Tuesdays. 1252 now infuses a mobile art painting studio, My Picqasso, into their ambiance to make lunch happy hour fun, unique and to celebrate a lifestyle. Vivian Lewis, local artist & owner of My Picqasso calls it a "Twist on Tapas, Tuesdays."
Every Tuesday, during lunch, between 12:15 pm and 1:30 pm, My Picqasso sets up their mobile art studio. Guests are now able to participate in creative play during their lunch hours. Because there are no minimum attendee requirements, guests are invited to enjoy painting alone, or with up to twelve co-workers, family members or friends. The process is as simple as choosing a painting from My Picqasso collection, from there, a local artist is available to assist wherever needed.
According to Vivian, "It's not just about art painting, it's about a lifestyle." She adds that there is a plethora of benefits to art painting. Based on research and studies done by experts, art painting can relieve stress, fight off loneliness and relieves depressive moods. "Heck, we all get that art uses all of the brain, and how often do we get to do that? If not every day, definitely try it at lunch time on Tuesday over tapas at 1252. It's in a fun & entertaining way to tap into brain power and awaken creativity while hanging out with old and new friends."
George, a 1252 bartender says, "The guests are entertained watching the painters and the painters are enjoying their painting session while eating tapas and sipping their wine or slurping their beer." Others that enjoy the painting events range from Real Estate agents, luxury RV, apartment and estate communities to young-at-heart seniors, widows, yoga moms and nurses.
My Picqasso touts that 100% of their painters have been pleased with their results based on the limited number of times they've painted in their past. According to a satisfied customer, "I can't draw a stick figure; I consider myself an engineer tech. I did something out of my comfort zone; those who saw my painting were amazed."
About My Picqasso
My Picqasso is all about helping individuals & entrepreneurs tap into their greatness, power and beauty through art painting. My Picqasso is a mobile art painting studio and is an active participant in the Paint and Sip industry. They travel to venues and bring creative play into individuals' lives. This holiday season, try a painting activity theme to set your party apart. A painting activity is a great way to host a team building or vision building activity. You can find out more about My Picqasso on their website at www.mypicqasso.com. Take a look to see how much fun they are having in the community. Also take a look at their calendar at www.mkt.com/calendar , there may be an event you want to attend or book your own.

###

CONTACT INFORMATION
My Picqasso
Vivian Lewis
Email: artsyflair@gmail.com
Tel: 281-651-1485